Toward the end of last year, our organization moved to using Sendio's email security solution.  This is one of the best moves that we have made in a long time.
As many of you know, I have had the same email address for 15+ years. And, I have made mistakes with it over those years, such as giving out business cards at trade shows, etc.  Having an email address for this long and having made mistakes with it over time, my inbox was inundated with countless messages from spam, BACN, or bulk sources.  This makes it hard to separate the junk from the mail you really need.  This can become particularly troublesome for small business people who can't afford to overlook an important email.
Sendio's marketing team talks about the fact that "the average employee receives 200 emails per day.  And that of those 200 emails, typically only 10% are important."  I became very aware of this after we installed the Sendio solution.  Below is a screen shot of stuff that would normally come to my inbox.  I would consider all of this to be "noise".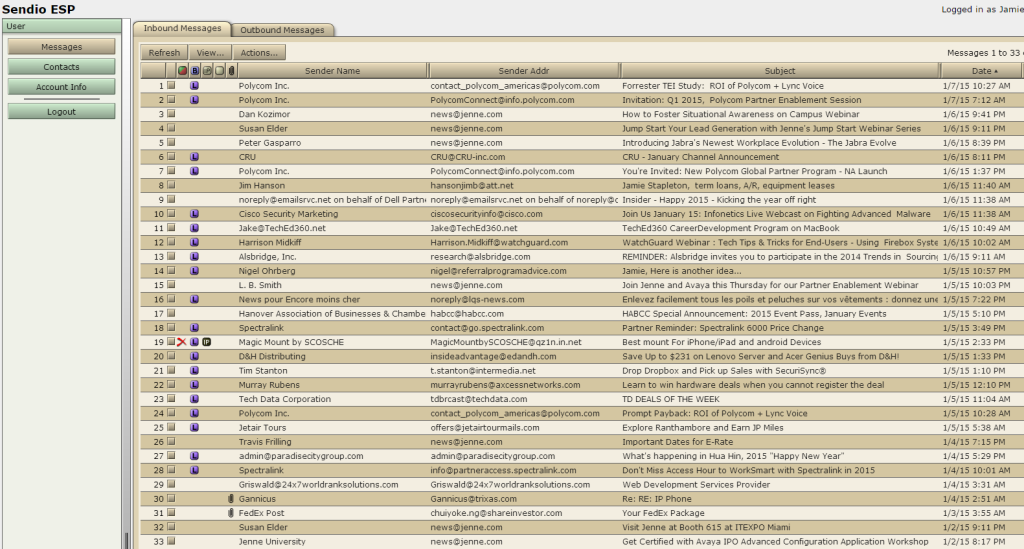 Impact on Unified Communications
As many of you know, we use our IP PBX to deliver our Voicemail to Email.  Prior to Sendio, an important voicemail could easily be lost in a sea of 200 emails.  Now, since Sendio only delivers the important (think 10%!) emails, things tend to get lost a lot less often.
Impact on Mobility
Like most small business people, my email is delivered to my iPhone. I don't care about ITEXPO booth updates at 9 PM on Friday night or Spectralink marketing at 10 AM on a Sunday.  These are times that I want to avoid "noise".  I want to spend time with my family.  The only time that I want to be interrupted is if a customer requires service.  This is exactly what Sendio does for me.
As Sendio says, "Your time is important, and it's time you got an email solution that makes sure time is spent on the projects that matter, not on junk mail."
Here is a quick video of what makes Sendio work so well:  https://www.youtube.com/watch?v=d5oVRcpm5G8
If you are interested in removing the "noise" from your email inbox, please call (804) 798-4444 Option 2 or email sales@computer-business.com.